Before i upload all my chinese new year photos...I just have to introduce this movie to all of you out there:
You may have seen this movie since it's kinda "old" already. 10 Promises to my dog. A japanese movie (continue from Quill).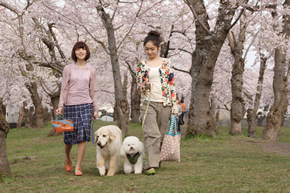 It's about a girl named Akari, her dog, Socks and their 10 magical years together. This movie lasted for 2 and a half hours(if i'm not mistaken). Well, to be honest, i keep crying for the whole 2 and a half hours, from the first second the movie start until the last. I dont know why, (half it's because of my flu i guess) but it's really very very touching!!!!!!!! And socks is very cute!
I cried when the dog came to her house at first. I cried when they separate. I cried when Akari and Socks meet again. I cried when Socks died. omg...then my eyes swell up after that...
These are the 10 promises she made to her dog. It makes me wonder if i have done it to my dog....
Totally recommended!!!! (Especially dog lovers)